Strand 2 – Digital Infrastructure
Strand 2 will pilot hardware and software tools to address phenotyping data management and analysis limitations, enabling FAIR data access for UK scientists and industry.
We will scope and identify how best to offer a FAIR (Findable, Accessible, Interpretable, Reusable) data infrastructure that supports the diverse UK phenomics community, facilitating community standards and support for data collection and analysis. We will conduct surveys and hold workshops to determine needs and current offerings, and develop a proof of concept data infrastructure – database, metadata standards, data ingestion tools, workflow API – which can evolve to meet the UK's growing needs.We will evaluate its performance, following open calls for participation, through PhenomUK-funded data exemplars. We will scope and procure a suitable compute and storage infrastructure to testbed large-scale data interrogation and develop data governance recommendations that ensure the infrastructure's long-term sustainability, adoption, and evolution.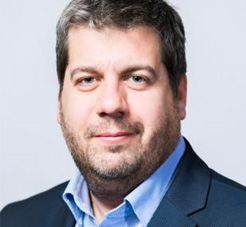 Prof Sotirios Tsaftaris
Strand 2: Digital Infrastructure
Dr Valerio Giuffrida
Strand 2: Digital Infrastructure