The European project AI4Life – open call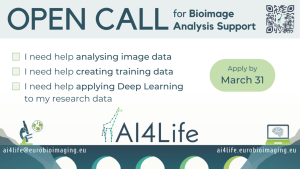 The European project AI4Life aims at narrowing the gap between life scientists performing biological imaging and developers of AI-based methods to analyse image data.
This is the first of a series of annual open calls to provide life scientists who have unmet image analysis needs with deep learning enhanced workflows.
Projects will be funded to cover ~6 months of part-time collaboration between the proposing group and the AI4Life team.
The only restrictions are that you are working in the life sciences and are analysing scientific image data and that data required to address your analysis task is (or will be before the project starts) openly accessible under a suitable license (e.g., CC-BY, CC-BY-SA, or CC0).  Outcomes will be shared (on the AI4Life website or via open-access publication).
Individual groups can apply, but if you are interested in applying as a consortium with a common problem, PhenomUK is happy to help develop your ideas, broker new links to multidisciplinary-partners & technology providers and / or assist with co-ordinating your proposal(s). Contact us at: